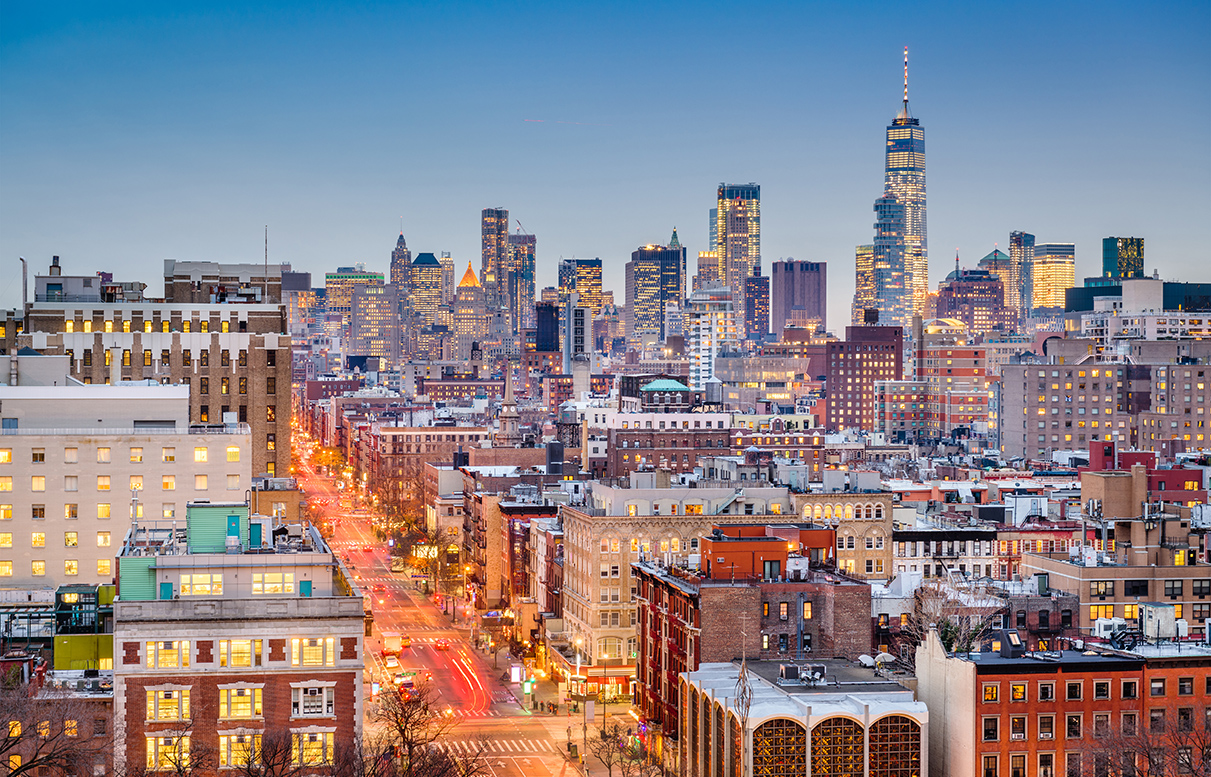 In addition to the lights, the frenetic pace, and the infectious energy, New York City has always been a drinking town. 
Back in the 17th century, when it was still called New Amsterdam and controlled by the Dutch, one of the first official edicts involved an attempt to curb "an undisciplined settlement where drunkenness and fighting prevailed." (It failed.)
Since then, the city's drinking scene has grown more refined, of course, eventually influencing bar culture the world over. Take cocktails: From the Manhattan in the 1800s to the Penicillin in the aughts, New York has played no small role in creating the standard whiskey cocktail menu we know and love today. In recent years, it's also become a source of the juice itself, with new distilleries opening in the five boroughs to revive an industry that thrived before Prohibition, then was obliterated by it. (Pinhook, as you may know, has its headquarters in Manhattan).
No surprise, then, that the whiskey lover will find no shortage of outlets for his or her passion in the city that never sleeps. Discover your new favorite NYC whiskey bar, check out a Brooklyn whiskey distillery, embark on a curated whiskey tasting, or indulge in a meal that complements your favorite pour. Read on for the spots we return to time and again for all such pursuits.
(An asterisk next to a listing below indicates that Pinhook bourbon or rye is available at the establishment.)
Sidling Up
Flatiron Room*
This Manhattan spot specializes in providing a rarefied sipping experience against a backdrop of bygone elegance and civilized live music. Staff "whiskey guides" are on hand to help patrons navigate more than 1,000 whiskey bottles on the menu.
37 W 26th Street, New York, NY | theflatironroom.com

Brandy Library*
Pay your respects to the world of fine spirits at this temple for the cause, so committed to drinking as a civilized pursuit that only patrons above the age of 25 are let in. The menu is encyclopedic–with more than 1500 bottles to peruse and enjoy.
25 N Moore Street, Manhattan | brandylibrary.com

Copper & Oak
Don't come here looking for a complicated cocktail–they don't serve 'em. Come here because you're a whiskey obsessive, and you'll be guaranteed to discover something new among this tiny bar's many hundreds of bottles, which you'll be literally surrounded by.
157 Allen Street, Manhattan | No website at time of publication

Gair*
The centerpiece bar at this Dumbo corner spot has 36 seats, and any one of them is a perfect perch for enjoying the soothing decor, inventive cocktails and shareable plates. (They've been known to offer up an exquisite Pinhook High Proof Bourbon Old Fashioned.)
41 Washington Street, Brooklyn | gair-dumbo.com

Travel Bar*
A true neighborhood spot with roughly 200 bourbons available for tasting, plus a must-try selection of whiskey cocktails that have been batched and barrel-aged in house.
520 Court Street, Brooklyn | travelbarbrooklyn.com

Katana Kitten
This pleasantly off-kilter bi-level space specializes in cocktail wizardry that fuses the classic New York bar with its Tokyo counterpart. For an establishment executed with such precision, its laid-back, welcoming vibe is all the more notable.
531 Hudson Street, Manhattan | katanakitten.com


Attaboy
The ghosts are alive and toasting in this space formerly occupied by the zeitgeist-defining bar Milk & Honey, where the Penicillin cocktail was invented–definitely order one. Despite this space's fame in the cocktail world, it still feels like a secret.
134 Eldridge Street, Manhattan | attaboy.us


Down & Out*
Fun fact: At one time, almost half the world's oysters came from New York Harbor. Those days are long gone, but you'd never know it at this East Village bar, where a 250 bottle-strong whiskey collection helps wash down the bar's other specialty.
503 E 6th Street, Manhattan | downandoutnyc.com

Whiskey Ward*
"If you know, you know," says Pinhook CEO Alice Peterson about this low-key spot on the Lower East Side that presents its more than 250 whiskeys with zero frills, but loads of authentic enthusiasm. Pick your poison, then head to the pool table in the back.
121 Essex Street, Manhattan | thewhiskeyward.com

On the Rocks
It's a bourbon and beer kind of place, but where the bartenders have a serious passion for both, and for making patrons feel right at home exploring the far corners of the menu. The hordes of repeat customers often cite the bartenders as the key draw.
696 10th Avenue, Manhattan

The Craic
By turns cushy (think velvet) and spare (think worn floorboards), this pub in the heart of Williamsburg may have Irish and Scottish roots, but the owners have cultivated a healthy enthusiasm for American whiskey, as well, with prices among the fairest we've come across.
488 Driggs Avenue, Brooklyn | thecraicbrooklyn.com

Chowing Down
The Spaniard*
It's not Spanish, and it sure does have an extensive whiskey list for a place that calls itself a gastropub, but however you classify it, the fact remains that when you visit, you'll find a classic food menu that never fails, and just the right whiskey pour to accompany it.
190 W 4th Street, Manhattan | thespaniardnyc.com

Planta Queen
Even carnivores may never see vegetables the same way again after succumbing to the charms of this vegan spot in Nomad, housed in a pleasant, design-forward space. For us, the innovative Asian menu begs to be accompanied by a Japanese whiskey cocktail.
15 W. 27th Street, Manhattan | plantarestaurants.com

Minetta Tavern
Ever since Keith McNally revived this worn 1930s West Village restaurant in 2009, it's qualified as a new classic, with a menu (and a whiskey list) that lives up to the promise of the seductively buffed and polished saloon rooms it inhabits.
113 MacDougal Street, Manhattan | minettatavernny.com

Oxomoco*
In an airy, plant-filled single-story building in Greenpoint, chef Justin Bazdarich has expanded the possibilities of Mexican cuisine. At least one Pinhook staffers swears this is the best brunch in the city. (Pinhook is among the select whiskeys on the menu, so know you'll be in good hands.)
128 Greenpoint Avenue, Brooklyn | oxomoconyc.com

Gage & Tollner
This historically renowned restaurant in Brooklyn closed in 2004, to be resurrected in 2021 as one of the finest eateries in the city. The bartenders are unimpeachable in their execution of bar-menu classics, from the martini to the Manhattan to the old fashioned to the whiskey sour.
372 Fulton Street, Brooklyn | gageandtollner.com

Distilleries, Breweries, and Shops
Kings County Distillery Tasting Room
A tour of the King County Distillery, located in the 1899 Paymaster Building, is well worth the time. But the nearby tasting room steals the show, tucked into the old gatehouses of the Brooklyn Navy Yard and functioning as a lost-in-time bar unto itself.
299 Sands Street, Building 121, Brooklyn | kingscountydistillery.com

Great Jones Distilling Co.
The first whiskey distillery in Manhattan since Prohibition filled its first barrels at this gorgeous new location in 2021. In addition to free distillery tours, there's an ambitious on-site restaurant, The Grid, and a cocktail bar with a great happy hour.
686 Broadway, Manhattan | greatjonesdistillingco.com

Brooklyn Brewery
Since the early 1990s, Brooklyn Brewery has been a pioneer and an anchor in the fast-developing North Williamsburg neighborhood. Book a tour or stop by the tasting room to sample their many brews. Master Brewer Garrett Oliver collaborated with Pinhook on a special release bourbon earlier this year.
79 N 11th Street, Brooklyn | brooklynbrewery.com

The Wine Cave
On the border of Brooklyn's South Williamsburg and Bed-Stuy neighborhoods, you'll find a gorgeous, finely curated shop lined with a global collection of whiskeys (and whiskys), including a number of single barrel exclusives.
888 Bedford Avenue, Brooklyn | thewinecave.com

Gramercy Wine & Spirits*
From the owners to the floor staff, everyone in this shop just off Madison Square shares a passion for each bottle on their shelves. The incredible selection of American whiskeys is one of the best in the New York area, and accommodates every palette and budget.
104 E 23rd Street, Manhattan | gramercywine.com

Hotels
The Beekman
For our money, there's no better spot in the city to wile away an afternoon over an old fashioned than at the Bar Room in this fabulously restored 19th century building near City Hall. It's a stunner for overnight guests and local drinkers alike.
123 Nassau Street, Manhattan | thebeekman.com

The Wythe*
The gorgeous hotel in this former cooperage helped kick off the new Brooklyn hotel boom. On the ground floor, Le Crocodile has a Michelin star for a reason. Up on the sixth floor, Bar Blondeau serves compelling cocktails against a panoramic Manhattan skyline view.
80 Wythe Avenue, Brooklyn | wythehotel.com

The Ritz-Carlton NoMad
This sleek year-old hotel has a delectable restaurant on the ground floor along with a magnificent top-floor cocktail lounge, Nubeluz, offering sweeping views of the Manhattan skyline (and beyond) along with a menu of unusual and theatrical cocktails.
25 W 28th Street, Manhattan | ritzcarlton.com