The whiskey glass: by turns fiercely contemplated and casually overlooked. We understand why--on one hand, we're inclined to say it doesn't matter what you drink your whiskey out of. Fundamentally, the glass is merely the delivery mechanism for the truly important stuff–the whiskey itself.
On the other hand, you have to drink your Pinhook out of something, and that something ought to enhance the experience where it can. The contours and construction of a glass can strengthen the distinct qualities of a pour. And a beautiful presentation only adds to the enjoyment.
We consulted a handful of whiskey experts to find out which glasses they recommend for drinking bourbon and rye in their preferred fashion. With these picks, you'll see that there's no one-size-fits-all option. But there is a consensus that there's a glass out there that will work better for you than all the others—and it's not necessarily even a whiskey glass.
Denver & Liely Bourbon Glass
Selected by:
André Hueston Mack
Rye & Sons Founder
Preferred Pour: Neat (very seldomly adding ice).

Why: "This whiskey glass is perfect for me with regard to consuming whiskey neat. It's similar to a rocks glass, with a heavy base which sits slightly on a pedestal. I like to grab from the bottom every now and then to make sure that my hand doesn't heat up the whiskey. I find that the curvature of the outside of the glass leads to a smooth delivery on the palate and makes for a great drinking experience."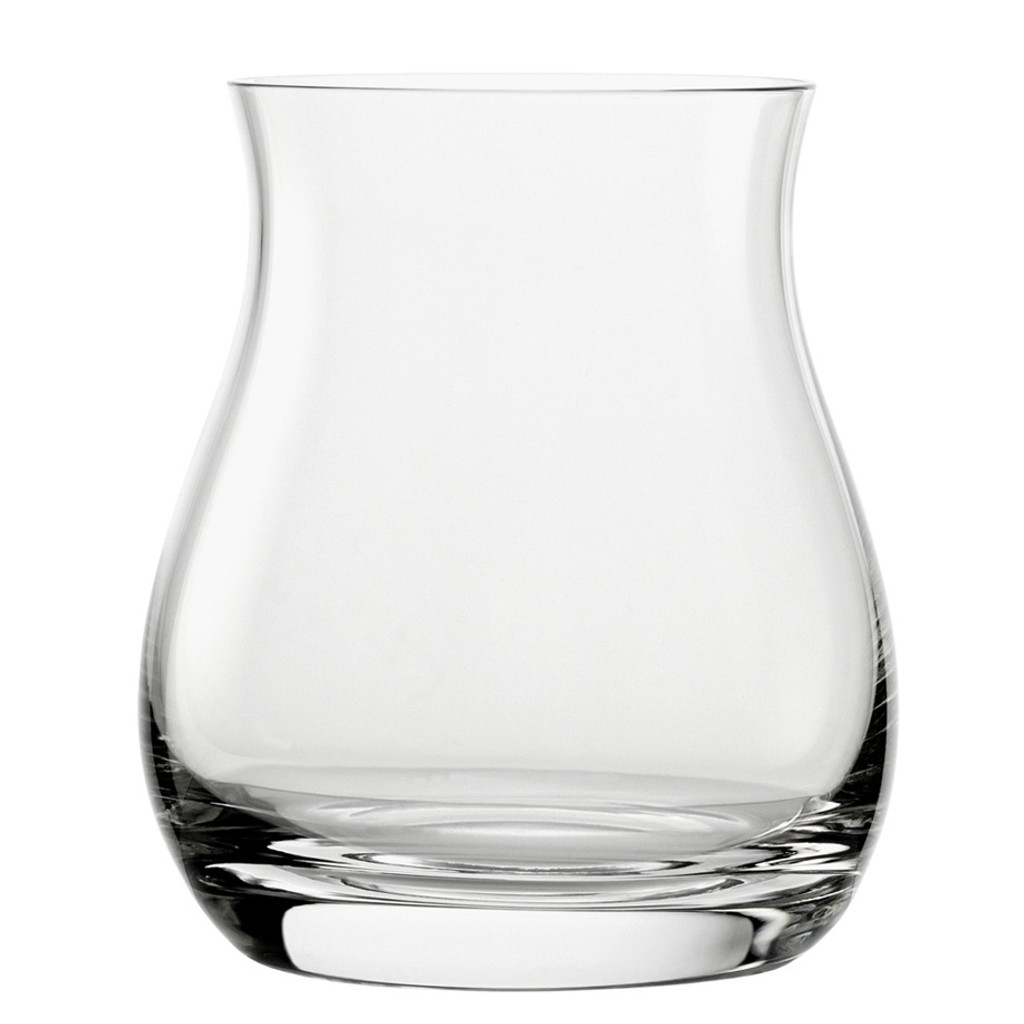 Glencairn Crystal "Canadian" Whisky Glass
Selected by:
Caroline Paulus
Whiskey Historian at Justin's House of Bourbon
(You can also find her on Instagram)
Preferred Pour: Neat.

Why: "I love drinking from a wide-mouth or Canadian Glencairn. To me, it's the best of both worlds between the size and comfort of a rocks glass (i.e. more whiskey in your glass and fewer trips to the bar) and the shape of a Glencairn that funnels the nose of the whiskey to you. A Canadian Glencairn is also big enough to allow for a couple cubes, if that's your preference."
Libbey Signature Kentucky Bourbon Trail Tasting Glass
Selected by:
Christopher Blatner
Founder of Urban Bourbonist LLC
Preferred Pour: Neat or occasionally with a few drops of spring water.

Why: "This glass gives me the best drinking experience out of all those I have tried. I like the weight and how it feels in your hand. The heavy sham provides an excellent way to hold the glass and swirl the whiskey. I also like the wide bowl and how the glass subtly narrows at the neck to enhance aroma and flavor while not allowing the alcohol to overwhelm the pour. The wider opening of the glass makes it easier to smell the complexities in the whiskey compared to glasses with narrower openings. It's also a thick and durable glass that's dishwasher safe and I'm never worried about breaking if I wash it by hand. Maybe the best feature of all is that it's stackable."
Shop the Libbey Signature Kentucky Bourbon Trail Tasting Glass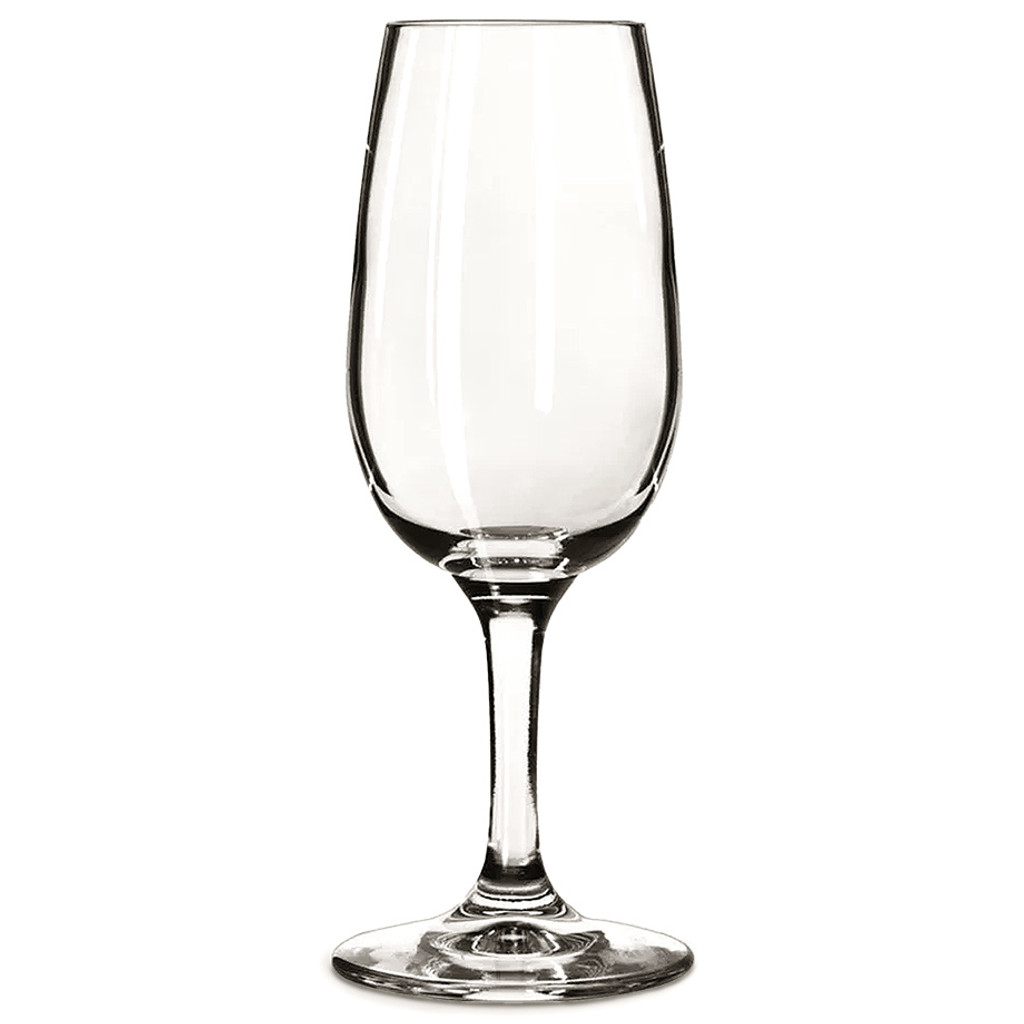 Libbey Bristol Valley Sherry Glass
Selected by:
Neal Bodenheimer
Owner of Cure and author of Cure: New Orleans Drinks and How to Mix 'Em from the Award-Winning Bar
Preferred Pour: Neat, with a little filtered water added, or with one or two ice cubes, depending on the pour.

Why: "I am a utilitarian glass guy, so I actually prefer a sherry glass over a (classic and similarly shaped) Glencairn Whisky glass. Glencairns are super nice, but we always keep sherry glasses around the bar, so that's my first grab. I love the sherry glass because the style of glass gives you enough room to keep your nose removed from the spirit a little bit. I always recommend smelling from a distance before getting a little closer to the spirit."
Tom Beckbe Terrane No.12 Glass
Selected by:
Sean Josephs
Pinhook Master Blender
Preferred Pour: Neat or with ice.

Why: "While a big part of my job is tasting whiskey, sometimes I want to just relax and drink some. When those occasions arise, there is nothing more satisfying than the heft and tradition of a classic rocks glass. The Terrane Glass from Tom Beckbe is a gorgeous handmade glass that perfectly sets the mood for a casual sip at the end of the day."