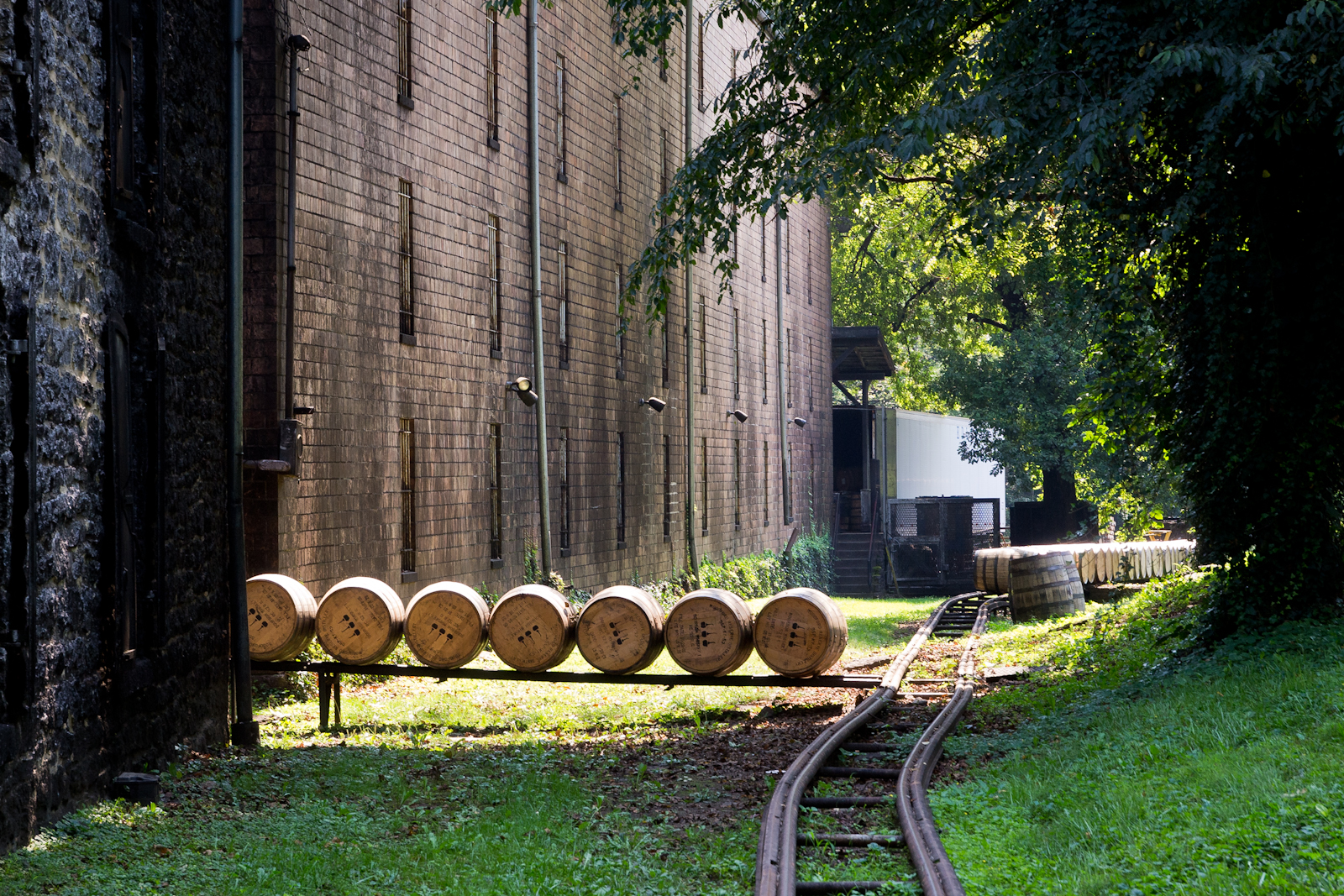 Spread across the entire Central Kentucky region, Kentucky's Bourbon Trail links the state's whiskey distilleries into a collective destination, like Napa Valley but with a higher proof and a southern charm.
While Louisville and Lexington each boast a fair concentration of distilleries, many of the biggest names in bourbon distill their juice far outside the cities among the state's famous rolling hills and horse farms. The ideal Bourbon Trail adventure, then, encompasses both city and countryside. While visiting every distillery over the course of a few days would be impossible–there are simply too many of them–a decent sampling means traversing the region from Lexington to Louisville to areas between, north, and south of those two hubs.
Along the way, you'll want to enjoy some fine food, some intriguing sips, and comforting environs in which to lay your head at night. The list below details our favorite spots to enjoy after the distillery tour and tasting, including a number of places that can be considered destinations in their own right.
Where To Eat
The Stave Restaurant and Bourbon Bar
NEARBY DISTILLERIES: Woodford Reserve, Castle & Key, Wild Turkey
Along the gorgeous drive between the Woodford Reserve and Castle & Key distilleries, this spot brings a touch of urban polish to the rural stretch of road it calls home. The menu's got it all–bourbon flights, interesting cocktails, and inventive Kentucky cuisine. The deck out back overlooks Glenns Creek, the water from which both nearby distilleries use in crafting their whiskeys.
5711 McCracken Pike, Frankfort | thestavekentucky.com

Holly Hill Inn
NEARBY DISTILLERIES: Woodford Reserve, Castle & Key
In a grand 1845 home in Midway–the town at the midpoint between Lexington and the state capitol of Frankfort–chef Ouita Michel turns out locavore southern dishes alongside a thousand-bottle-strong bourbon collection. A true destination restaurant.
426 N Winter Street, Midway | hollyhillinn.com

Trackside Restaurant
NEARBY DISTILLERIES: Hartfield & Co.
A former train depot has been restored and transformed into a charming stop on your way to Hartfield & co.--the first bourbon distillery to operate in Bourbon County since prohibition. Fill up on classic Kentucky dishes, especially the much-loved hot brown.
134 E 10th Street, Paris | tracksideatthedepot.com

Repeal Oak-Fired Steakhouse
NEARBY DISTILLERIES: Peerless, Angel's Envy, Rabbit Hole
A Louisville restaurant named after the end of Prohibition is bound to take its bourbon seriously, and Repeal doesn't disappoint–take your time perusing the extensive whiskey list. The classic American food menu goes with it perfectly.
101 W Main Street, Louisville | repeallouisville.com

Mammy's Kitchen
NEARBY DISTILLERIES: Willett, Preservation, Heaven Hill, Bardstown Bourbon, Lux Rox
Southern staples from hot browns to fried green tomatoes pervade the menu in this quaintly barn-like restaurant. Open for breakfast, lunch, and dinner, meaning it's a go to spot to fuel up before hitting the many nearby distilleries.
116 W Stephen Foster Ave, Bardstown | mammys-kitchen.business.site


Bluegrass Sabor
NEARBY DISTILLERIES: Wild Turkey, Four Roses
This reliable eatery on Lawrenceburg's colorful, historic Main Street is a most convenient pit stop while visiting two of Kentucky's powerhouse distilleries. Friendly and filling, with reasonable prices and sidewalk seating in the warmer months.
115 S Main Street, Lawrenceburg | No Website
Where To Drink
Old Talbott Tavern
NEARBY DISTILLERIES: Willett, Preservation, Heaven Hill, Bardstown Bourbon, Lux Row
The oldest bar in Kentucky has been serving customers since the 1700s, when it was operated as an early stagecoach stop. These days, patrons can choose from among 200 bourbons, enjoy live music on the weekends, and enjoy lunch and dinner menus. In the stagecoach tradition, there are also six rooms available for overnight stays.
107 W Stephen Foster Ave, Bardstown | talbotttavern.com

3rd Turn Brewing Oldham Gardens
NEARBY DISTILLERIES: Kentucky Artisan
3rd Turn's second location is a proper beer garden set among gardens and greenhouses–a nice change of atmosphere after visiting a string of bourbon distilleries. With 32 of its namesake and select other beers on tap, the grounds practically demand the wiling away of an early evening in summer.
6300 Old Lagrange Rd, Crestwood | 3rdturnbrewing.com

Hell or High Water
NEARBY DISTILLERIES: Peerless, Angel's Envy, Rabbit Hole
Reserve ahead, then give yourself ample time to find this speakeasy, accessed through a small shop on Louisville's Whiskey Row. The space itself provides a sumptuous velvet-and-leather backdrop for the bar's serious selection of cocktails.
112 W Washington Street, Louisville | hellorhighwaterbar.com

The Break Room
NEARBY DISTILLERIES: Pepper, Barrel House, Town Branch
Twenty years ago, the property that would become Lexington's Distillery District was abandoned. Since then, a lot of cool, fancy stuff has moved into the one-time home of James E. Pepper Distillery. The Break Room is the antidote to all that, a delightfully unassuming dive bar that sells cheap drinks, hosts live music, and has a fire pit outside.
1178 Manchester Street, Lexington | No Website

What To Do
Bernheim Forest
NEARBY DISTILLERIES: Jim Beam, Four Roses
For a foray into nature between bourbon tastings, dip into the 40 miles of trails spread across more than 16,000 acres of quintessential Kentucky countryside, with tons of nature-based programming for adults and kids alike.
2075 Clermont Road, Clermont | bernheim.org

Coolmore Ashford Stud
NEARBY DISTILLERIES: Wild Turkey, Woodford Reserve, Castle & Key
Book a tour of this major thoroughbred farm in the heart of Kentucky's horse country for a chance to see both recent triple crown winners, American Pharoah and Justify, at their post-racing home.
5095 Frankfort Road, Versailles | coolmore.com

Jot 'Em Down Store
NEARBY DISTILLERIES: Bluegrass
This deli and market across the street from the famed Spendthrift Farm has been a gathering spot for farm workers in the thoroughbred industry since it opened in 1933–making it Lexington's oldest food outlet and a throwback to another era.
3299 Russell Cave Rd, Lexington | No Website

Colville Covered Bridge
NEARBY DISTILLERIES: Hartfield & Co., Old Pogue
Of the 400 covered bridges that once dotted Kentucky, only 11 remain, and this is one of the most charming. Built in 1877 and restored after flooding in 1997, today it looks much as it did nearly 150 years ago.
Colville Rd north of Endicott Ln | No Website

Harrodsburg
NEARBY DISTILLERIES: Wilderness Trail, Four Roses
Kentucky's first European settlement survives to this day as one of the most lauded small towns in America. Stroll the historic Main Street for restaurants, shops, arts, and a general sense of history. For even more history, head to Fort Harrod State Park, which contains a full-scale recreation of the original settlement.
Where To Stay
21C Museum Hotel
NEARBY DISTILLERIES: Peerless, Angel's Envy, Rabbit Hole
The original 21C has only become more appealing since it opened in 2006, transforming Kentucky's hotel scene in one fell swoop. With 91 rooms mingling with a notable art collection across the five 19th-century warehouse buildings, plus the fantastic Proof on Main restaurant, the hotel is a worthy destination unto itself.
700 W Main Street, Louisville | 21cmuseumhotels.com

Manchester Hotel
NEARBY DISTILLERIES: Pepper, Barrel House, Town Branch
The building is new, but the vibe gives pure bygone fantasy at this recent addition to the Distillery District. The rooftop bar is a marvel–no wonder it's been attracting visitors and locals alike since its opening in June.
941 Manchester Street | themanchesterky.com

Hotel Covington
NEARBY DISTILLERIES: New Riff, Pensive, Boone County, Second Sight Spirits
Inside an architecturally significant former department store building just south of the Ohio River from Cincinnati, this boutique hotel is not only lovely, but it embraces the bourbon tradition. Guests can book the Bourbon Flight experience to sample the hotel's select private barrels, all locally sourced, or head to the bar to order a classic whiskey cocktail using the bourbon of their choice.
638 Madison Ave, Covington | Hotel Covington

Beaumont Inn
NEARBY DISTILLERIES: Wilderness Trail, Four Roses
Kentucky's oldest family-owned inn -- nestled in the state's oldest town -- oozes charm in both its 21 guest rooms and in the restaurant, where the menu of classic Kentucky dishes earned it a James Beard America's Classics Award in 2015. Also not to be missed: the utterly charming Old Owl Tavern and its extensive bourbon collection.
638 Beaumont Inn Dr, Harrodsburg | beaumontinn.com

Bourbon Ball Inn
NEARBY DISTILLERIES: Willett, Preservation, Heaven Hill, Bardstown Bourbon, Lux Rox, Maker's Mark
This three-room B&B in an 18th-century home puts a special emphasis on that second "B" -- the spectacular breakfasts being reasons enough to book a night or two. It's a great first step toward readying yourself to visit the large number of nearby distilleries.
110 E Broadway, Bardstown | bourbonballinn.com